The Coffee Watch, an innovative new watch created by Lilienthal Berlin Kaffeeform, is with a groundbreaking coffee-based material developed, and a sustainability metaphor not just for the watch industry but for all manufacturing industries.
The recycled coffee grounds used to make the watch are collected by bike from Berlin roasters, coffee shops, and restaurants and taken to a community workshop for drying.
"The dried grounds are then processed with other renewable, plant-based materials such as waxes, oils, and biopolymers to create the innovative, shapeable material. It took Lilienthal Berlin and Kaffeeform more than 3 years to come up with the perfect combination of materials that go into the sturdy and stylish Coffee Watch case."
Jacques Colman, Co-Founder of Lilienthal Berlin: "The Coffee Watch is the first of its kind, and we're excited to see if the world is ready for such a disruptive approach and innovation."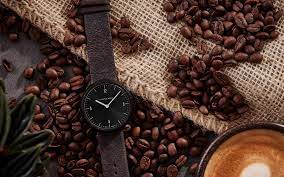 The Coffee Watch comes in four different versions. The dial is minimalist with fine engravings, or more traditional with typical Lilienthal Berlin numerals. As for the color, you can choose between black and silver. The case is crafted from Kaffeeform's innovative coffee-based material, providing for unique watches with an unmistakable origin.
The dark brown tone, round shape, fine marbled design, and delicate coffee aroma perfectly capture the look and feel of coffee cups and beans. In addition, the crown of the watch is cleverly recessed into the back of the case to put the finishing touches on the minimalist appearance.
Understated with clean lines, thin hour and minute hands, and an elegant sun cut effect, and boasting a reliable and extremely precise quartz movement from the Swiss manufacturer Ronda, the Coffee Watch makes for an immaculate addition to the Lilienthal Berlin collection. The straps of the Coffee Watch are done in mesh, vegetable-tanned organic leather, or vegan cellulose-based leather.
Jacques Colman continues: "The Coffee Watch is the new status symbol for a sustainable lifestyle that can also be worn on the wrist. True luxury takes the environment into consideration and focuses on understatement, not on showy and unnecessary details."